Last two opportunities for Cities on Tap


Tonight! | Vancouver
November 14 | Kent
Grab a colleague and meet us at Cities on Tap in Vancouver or Kent. Start off the night with time to connect and chat with colleagues from nearby cities. You'll get a first look at 2020 advocacy insights from our legislative team, along with information about essential tools and services. If you haven't yet registered, please take a moment to do so for our accurate head count.
AWC Member Expo a big success
From the keynote address to the break-out sessions, AWC's sold out Member Expo was a big success. Attendees converged in Chelan earlier this month to learn best practices, discover how to avoid pitfalls, strategize new ways to maximize AWC's Member Pooling Program benefits, and engaged in valuable networking with peers and AWC staff. View photos from the event.
Coming November 6 – AWC's city election dashboard



AWC will release our 2019 city election dashboard to examine the data behind local races, voter demographics, and the issues that are important to voters. Bookmark the AWC Open Data Portal now for upcoming analyses of local elections.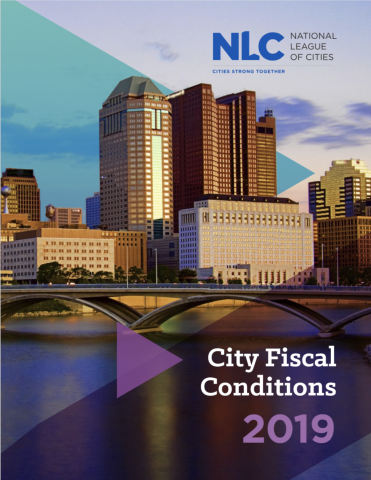 Report examines financial health of cities across the country
NLC just released its annual report, "City Fiscal Conditions," which includes the results of a national survey of city finance officers conducted each year since 1986. This year's results show that general fund revenues slowed to their lowest annual growth rate since 2013 and spending growth continues to outpace revenue growth. Yet, three out of four local finance officers across the country remain confident about the ability of their cities' budgets to meet the financial needs of their communities. Download the report for more details.
Overdose education and Naloxone distribution program
The Washington State Department of Health (DOH) has a program that may be able to provide free overdose training, technical assistance, and Naloxone to your organization. The Overdose Education and Naloxone Distribution program (OEND) supports access to Naloxone for people likely to witness an opioid overdose. Visit DOH for more information and fill out the Naloxone Request Form.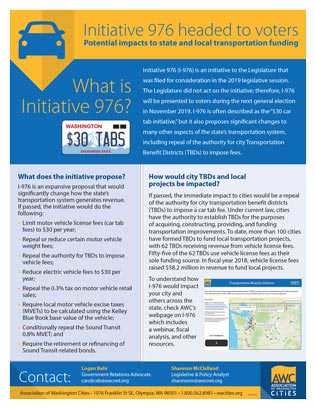 Review AWC's webinar on transportation-related Initiative 976
Last month, AWC hosted a webinar on Initiative 976 (I-976). The measure proposes to reduce car tab fees, repeal the authority for city Transportation Benefit Districts to impose fees, and reduce Sound Transit revenues. View a recording of the webinar and the slides to learn more about the initiative, how it could impact your city, and ways for you to engage on the issue headed to the ballot in November. And check out AWC's resource page for fiscal analysis and other information about the initiative.
Bring your advocacy expertise to the national level
Elected officials from the National League of Cities (NLC) member cities can help shape the direction of NLC and national policy. Applications are now available to indicate interest in serving on federal advocacy committees, member councils, and constituency groups. Application deadline is December 3.

Come well or high water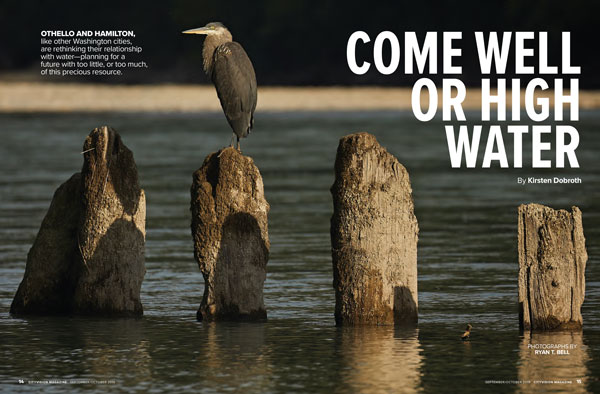 Othello and Hamilton, like other Washington cities, are rethinking their relationship with water – planning for a future with too little, or too much, of this precious resource. The latest Cityvision feature highlights two different approaches to planning for an uncertain water future.
Paid Family and Medical Leave – Is your organization ready?


November 20 | Webinar
This year, Washington employers began paying premiums for the new paid family and medical leave law. Beginning in 2020, benefits will be available to employees. With the new law comes new and complex requirements for employers. Explore the details of the new law, dive deep into new requirements for employers, and discuss practical considerations and options for modifying existing policies. Attendance is limited to individuals that represent the interests of management. Register now!
Census 2020: Ready, set, count!


December 13 | Webinar
In March 2020, communities across the nation will take part in the 2020. With over $600 billion in federal funding and grant money on the line, cities across Washington have already begun preparing to ensure their community will be accurately counted. Join AWC for a webinar to learn about new resources insights on how the 2020 Census can benefit your city. This webinar is for elected officials, city administrators, and other city leaders. Register now!
AWC trainings & events

Fall dates

Various locations

November 20

Webinar

December 7

11 streaming locations

December 13

Webinar

Public Works and Economic Adjustment Assistance Program grants
The Economic Development Administration of the Department of Commerce is offering grants for construction, non-construction, planning, technical assistance, and revolving loan fund projects to leverage existing regional assets and support new ideas and creative approaches to advancing economic prosperity in distressed communities. Applications will be accepted on an ongoing basis. Apply here.


Have you activated your free job postings? Reminder: they expire on 12/31/19. Connect with qualified candidates on AWC JobNet using your discount code for free job postings. Get started today!
Featured jobs
City of Port Orchard | Assistant City Engineer
City of Newcastle | City Clerk