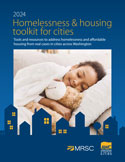 Updated Homelessness & Housing Toolkit for Cities now available
This publication provides real-world examples of tools and actions Washington cities have used in responding to the issues of homelessness and affordable housing. The toolkit includes articles on housing levies, tenant protections, tax exemptions, regional coalitions, emergency rental assistance, and more. AWC and MRSC collaborated on this toolkit to highlight working examples of innovative approaches that cities take to address these challenges.
2020 Census kicks off in less than six months
We are officially less than six months out from the 2020 Census and many cities and towns have already begun taking steps to prepare. Because the Census is so critical for Washington's cities and towns, AWC has developed a 2020 Census landing page to provide cities with information, resources, recommendations, and tools to help ensure that everyone in your community is counted. View the resources and tell us what your city is doing to prepare. More
Get involved! Apply to serve on state councils
AWC is recruiting candidates for the following three state councils:
Applications for these state councils are due November 8.
Looking for ways to get involved in AWC?
AWC is seeking volunteers for the following: Equity Workgroup, Nominating Committee, Small Cities Advisory Committee, State and Federal Policy Committee, and Temporary Bylaw Review Committee. Deadline for applications is November 13. Find more information about specific qualifications and how to apply.
Get Cities on Tap at four
upcoming locations


October 23 | Yakima
October 24 | Tacoma
October 30 | Vancouver
November 14 | Kent
Grab a colleague and meet us at our last four Cities on Tap. Start off the night with time to connect and chat with colleagues from nearby cities. You'll then get a first look at 2020 advocacy insights from our legislative team, along with information about essential tools and services. If you haven't yet registered, please take a moment to do so for our accurate head count.
New Complete Streets technical assistance and funding opportunity
Three communities in Washington state will be selected for a new technical assistance opportunity from Smart Growth America, in partnership with the Centers for Disease Control and Prevention, the Transportation Improvement Board, the Washington State Department of Transportation, and the Washington State Department of Health. The selected communities will participate in a yearlong Complete Streets Leadership Academy andy will learn how to overcome barriers to Complete Streets implementation, conduct and evaluate tactical urbanism projects, engage the community, and collaborate more effectively across agencies and departments. Applications are due October 27.
Department of Commerce seeks comments on draft rule language
The 2019 Encouraging Investments in Affordable and Supportive Housing Act authorized a new state-shared local tax that cities and counties could use for investments in affordable and supportive housing. There are reporting requirements for cities and counties implementing the tax and Commerce needs to adopt rules prescribing the content of those reports. Those wishing to weigh in on draft rule language to help set the reporting requirements have until October 31 to submit comments to Commerce.
State Recruiting Members to Serve on the Recreation and Conservation Funding Board
The Washington State Recreation and Conservation Office is recruiting for two new members for its Recreation and Conservation Funding Board, which awards more than $140 million in grants in a two-year budget cycle to improve parks, trails, boating amenities and access to shorelines. It also awards grants to conserve working lands, such as farms and forests, and to protect pristine wildlife and natural areas. To apply, submit an electronic application via the Governor's Boards and Commissions Web site. Applications due November 1.


Looking to fill a key position? JobNet is the place to recruit new talent. Take advantage of your discounted membership rate and post your job openings on AWC JobNet today!
Featured jobs
City of Longview | Administrative Services Director
City of Sammamish | Public Works Director
AWC | Administrative Assistant II

Cybersecurity for cities
In recognition of Cybersecurity Awareness Month, the National League of Cities has released a new publication, "Protecting Our Data: What Cities Should Know About Cybersecurity" especially for local elected and appointed officials and others who may not have a background in cybersecurity or network management. The guide outlines ten recommended first steps for city officials and includes a detailed checklist to help you get started.

AWC 2020 Legislative Priorities – Now is the time for your city to adopt its legislative agenda
Last month we gave you a preview of what priorities the AWC Board would consider for 2020—now it's official! See the seven city legislative priorities AWC's Board adopted for the 2020 legislative session. It's your turn! Develop, adopt, and send us your city's 2020 legislative agenda and we'll add it to our website. Read this week's View from the Hill. More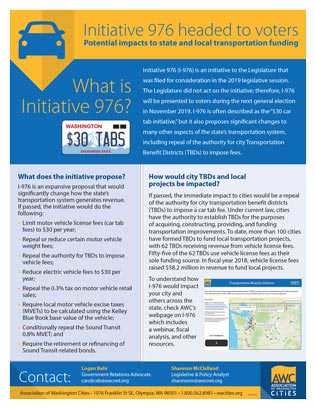 Reminder: Check out AWC's resources on I-976
Initiative 976 is on the ballot on November 5 and, if passed, would reduce city, state, and other local government transportation revenue. Review our I-976 resource page where you can watch our webinar, explore how your city would be affected, and learn how you can engage on the issue. More
Implementing the 2019 B&O tax model ordinance


October 29 | Webinar
A law passed during the 2019 legislative session requires cities with local B&O taxes to make mandatory updates to comply with the changes. The mandatory updates must be approved and effective by January 1, 2020. Attendees will learn about mandatory changes, how the apportionment rules will work for service income, and what resources are available to help. Register now!
Managing conflicts and building cohesive teams


October 30 | Webinar
As an elected official, how can you leverage your position to enhance teamwork and manage the inevitable conflicts? Join part 4 of AWC's popular Elected Officials Essentials webinar series to learn tools and tactics for cultivating an environment of civility at city hall. Register now!
Paid Family and Medical Leave – Is your organization ready?


November 20 | Webinar
This year, Washington employers began paying premiums for the new paid family and medical leave law. Beginning in 2020, benefits will be available to employees. With the new law comes new and complex requirements for employers. Explore the details of the new law, dive deep into new requirements for employers, and discuss practical considerations and options for modifying existing policies. Attendance is limited to individuals that represent the interests of management. Register now!