Looking for ways to get involved in AWC?
Help AWC set policy, provide advice on programs and services. Check out the following exciting volunteer opportunities:
Equity Workgroup – A new ad hoc workgroup created in 2019 to evaluate recruitment for AWC board and committees, access to programs and services, and ways AWC can support cities with equity and inclusion efforts.
Nominating Committee – Recruits, interviews, and selects a list of potential candidates for election to the AWC Board of Directors at AWC's 2020 Annual Conference in June.
Small Cities Advisory Committee – Serves as a resource to AWC staff, helping to identify training, publication, technical assistance, and legislative needs of cities and towns with a population of fewer than 5,000 residents.
State and Federal Policy Committee – Tasked with updating the AWC Statement of Policy, which outlines positions AWC holds on fundamental municipal issues and serves as the framework for developing AWC's legislative priorities and positions.
Temporary Bylaw Review Committee – A temporary committee formed every five years to review the AWC bylaws for compliance with modern governance methods, legal, procedural, and operating policies and practices.
Deadline for all applications is November 13. Find more information about specific qualifications, meeting dates, reimbursement, and contact info.
Get Cities on Tap at four
upcoming locations


October 17 | Lynnwood
October 21 | Wenatchee
October 23 | Yakima
October 24 | Tacoma
Grab a colleague and meet us at Cities on Tap in either Lynnwood, Wenatchee, Yakima, or Tacoma. Start off the night with time to connect and chat with colleagues from nearby cities. You'll then get a first look at 2020 advocacy insights from our legislative team, along with information about essential tools and services. If you haven't yet registered, please take a moment to do so for our accurate head count.
The Great ShakeOut
October 17 | 10:17 am
Promote earthquake readiness with The Great ShakeOut. On October 17 at 10:17 am, millions of people worldwide will practice how to drop, cover, and hold on. Experts agree that this is the appropriate action to reduce injury and death during earthquakes. You may only have seconds to protect yourself in an earthquake before strong shaking knocks you down or drops something on you. The annual ShakeOut drill is your opportunity to practice how you'll safely respond. This page explains what to do, and what not to do.

Review AWC's webinar on transportation-related Initiative 976
Last month, AWC hosted a webinar on Initiative 976 (I-976). The measure proposes to reduce car tab fees, repeal the authority for city Transportation Benefit Districts to impose fees, and reduce Sound Transit revenues. View a recording of the webinar and the slides to learn more about the initiative, how it could impact your city, and ways for you to engage on the issue headed to the ballot in November. And check out AWC's resource page for fiscal analysis and other information about the initiative.


AWC's JobNet is the place for cities and towns to post job openings. With more than 12,000 hits from job seekers each month, AWC JobNet can help you find the qualified candidate for your organization. If you haven't already, learn how to activate your discount code and start using your free postings today!
Featured jobs
City of Covington | Development Review Engineer
Intercity Transit | Human Resources Analyst
AWC | Education Developer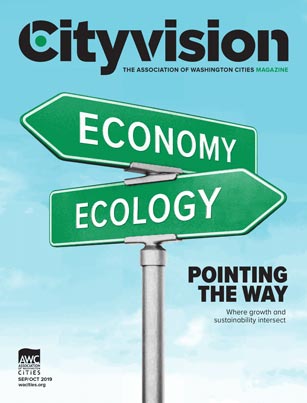 Pointing the way: Where growth and sustainability intersect
Economy and ecology: they're two similar-sounding words often thought to be at cross-purposes. This issue of Cityvision discusses the environmental challenges faced and solutions devised by cities across the state. Read examples of the "green economy" with details on innovations and businesses that benefit both environment and local economy.
Implementing the 2019 B&O tax model ordinance


October 29 | Webinar
A law passed during the 2019 legislative session requires cities with local B&O taxes to make mandatory updates to comply with the changes. The mandatory updates must be approved and effective by January 1, 2020. Attendees will learn about mandatory changes, how the apportionment rules will work for service income, and what resources are available to help. Register now!
Managing conflicts and building cohesive teams


October 30 | Webinar
As an elected official, how can you leverage your position to enhance teamwork and manage the inevitable conflicts? Part 4 of AWC's popular Elected Officials Essentials webinar series, this webinar focuses on tools and tactics for cultivating an environment of civility at city hall. Register now!
Paid Family and Medical Leave – Is your organization ready?


November 20 | Webinar
This year, Washington employers began paying premiums for the new paid family and medical leave law. Beginning in 2020, benefits will be available to employees. With the new law comes new and complex requirements for employers. Explore the details of the new law, dive deep into new requirements for employers, and discuss practical considerations and options for modifying existing policies. Attendance is limited to individuals that represent the interests of management. Register now!

Grants aimed at expanding broadband infrastructure to unserved communities
The Washington State Public Works Board is accepting applications for planning-feasibility study grants for broadband infrastructure. Approximately $500,000 is available with a maximum award per applicant of $50,000. Deadline for application is November 14 and awards are expected in December. Visit the Public Works Board broadband financing webpage for more information, and to complete the online application.