Register for Elected Officials Essentials
December 7 | 11 locations
Getting elected as mayor or city council member is just the beginning. Once you start your role, there are many things to learn – and quickly. Get a head start by attending this popular event! Understand your roles and responsibilities, learn important ethical considerations to keep you on the right side of the law, examine real-world municipal scenarios with on-site legal counsel, and network with other city leaders in your region. Registration is now open, but those not yet in elected office will need to register after November 5.
Guidance on registration and payment options for incoming elected officials
Cities should confirm with their legal counsel that the city can cover the cost of this training for an incoming elected official prior to their taking office. Reach out to incoming elected officials in your jurisdiction to explain registration and payment options, including:
The city registers and pays for incoming elected official; or
The incoming elected official registers, and may be allowed to request reimbursement (in accordance with the city's policy).
If you have questions, please confirm with your city's legal counsel.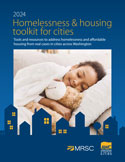 Updated Homelessness & housing toolkit for cities
First created in 2017 in partnership with MRSC, the recently updated toolkit features 11 new articles and updates to existing articles that examine tools and resources employed by cities across Washington to help address homelessness and affordable housing. Topic areas include funding, tenant protections, and innovative collaboration.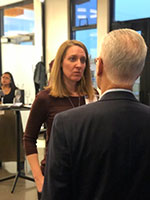 Good conversation flows at inaugural Cities on Tap meetings


Multiple dates | Multiple cities
Attendees of our first few Cities on Tap gatherings learned about tools and resources, heard a preview of 2020 advocacy insights, and spent time connecting with colleagues from nearby cities. The next two sessions will be held in Bellingham on October 9 and Sequim on October 10. Check out all our upcoming Cities on Tap locations and take a moment to register so we'll have an accurate headcount.
AWC Employee Benefit Trust 2020 rates announced
Last week, the Trust Board of Trustees finalized AWC Trust 2020 rates and plan changes. In most cases, there is no increase, which is great news for city budgets! See the great rates.
Watch AWC's webinar on transportation-related Initiative 976
AWC recently hosted a webinar on Initiative 976 (I-976). The measure proposes to reduce car tab fees, repeal the authority for transportation benefit districts to impose fees, and reduce Sound Transit revenues. A recording of the webinar and the slides are now available to help you learn more about the initiative, how it could impact your city, and ways for you to engage on the issue headed to the ballot in November.
$10.5 million in block grants awarded for vital infrastructure in 25 rural communities
The Washington State Department of Commerce announced that 25 rural cities and counties will receive a total of more than $10.5 million in Community Development Block Grants (CDBG) for 2019. The projects awarded funding will improve water and sewer systems, streets, community facilities, and fire protection systems and also support affordable housing projects and community planning. Learn more about state CDBG funding.


Did you know?
Over 600 individuals have alerts set so they can view your new posting the moment it is made.
Collectively, the postings on JobNet receive an average of over 12,000 views per month.
Great jobs. Strong candidates. Low cost. Post your jobs on AWC JobNet today!
Job seekers can also see your jobs highlighted on social media. Follow us on Facebook, Twitter and LinkedIn!
Featured jobs
City of Edgewood | City Attorney
City of Kent | Senior Planner (Parks)
AWC | Government Relations Assistant

AWC adopts 2020 Legislative Priorities
AWC's Board of Directors recently adopted Legislative Priorities for the 2020 session based on recommendations from the Legislative Priorities Committee. AWC created a summary sheet and fact sheets that you can use when talking with your local legislators and community members. Now is the time for cities to adopt your own legislative agendas for the 2020 session and discuss them with your local legislators! We encourage you to consider including AWC's priorities as part of your own city's legislative agenda.
Watch this video where Candice Bock introduces the seven priorities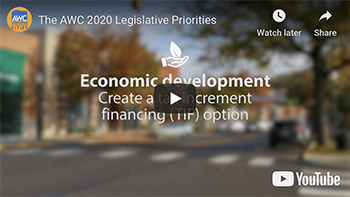 Get involved! Apply to serve on state committees
AWC is recruiting candidates for the following three state committees:
Forensic Investigations Council
Emergency Management Council
Active Transportation Safety Advisory Council
Visit AWC's website to learn more, including how to apply. Applications due November 8.
Managing conflicts and building cohesive teams


October 30 | Webinar
As an elected official, how can you leverage your position to enhance teamwork and manage the inevitable conflicts? Part 4 of AWC's popular Elected Officials Essentials webinar series, this webinar focuses on tools and tactics for cultivating an environment of civility at city hall. Register now!
Paid Family and Medical Leave – Is your organization ready?


November 20 | Webinar
This year, Washington employers began paying premiums for the new paid family and medical leave law. Beginning in 2020, benefits will be available to employees, making Washington the fifth state in the nation to offer paid family and medical leave to workers. With the new law comes new and complex requirements for employers.
This webinar will provide participants the opportunity to explore details of the new law, dive deep into new requirements for employers, and discuss practical considerations and options for modifying existing policies. This webinar is for human resource directors, labor relations, fiscal, and management staff, and registration is limited to individuals that represent the interests of management. Register now!
2019 BARS Manual updates: Register now!
November 20 | Webcast
The Local Government Support Team of the State Auditor's Office is offering the 2019 BARS Manuals updates via webcast for those unable to attend the training in person. The training includes updates to the BARS Manuals, important accounting and reporting updates, and information on annual report filing changes. Note there are separate sessions for GAAP and Cash and registration is required. Space is limited so don't wait!