Get Cities on Tap in Hoquiam, Bellingham, and Sequim next week


October 8 | Hoquiam
October 9 | Bellingham
October 10 | Sequim
Grab a colleague and meet us next week at Cities on Tap in either Hoquiam, Bellingham, or Sequim. Start off the night with time to connect and chat with colleagues from nearby cities. You'll then get a first look at 2020 advocacy insights from our legislative team, along with information about essential tools and services. If you haven't yet registered, please take a moment to do so for our accurate head count. Check out all our upcoming Cities on Tap locations.
Updated guidance on 'piggybacking'
The State Auditor's Office (SAO) has released updated guidance on the practice of 'piggybacking', which refers to participating in a cooperative purchasing arrangement in which one party does most of the work; generally, the larger entity procures goods or services and extends the pricing to other smaller entities.
SAO's updated guidance covers responsibilities of lead governments and smaller entities' use of another's bid award for various projects. The guidance also provides a checklist for participants to follow when entering a cooperative arrangement at local, state, and federal levels. The guidance is the result of legislation (SB 5958) passed in the 2019 session. 
The Great ShakeOut
October 17 | 10:17 am
Promote earthquake readiness with The Great ShakeOut. On October 17 at 10:17 am, millions of people worldwide will practice how to drop, cover, and hold on. Experts agree that this is the appropriate action to reduce injury and death during earthquakes. You may only have seconds to protect yourself in an earthquake before strong shaking knocks you down or drops something on you. The annual ShakeOut drill is your opportunity to practice how you'll safely respond. This page explains what to do, and what not to do.
Session on "GIS for Asset Managers" among offerings at this year's IACC


October 22-24 | Wenatchee
There's still time to register for the 30th annual Infrastructure Assistance Coordinating Council (IACC) Conference, a popular event focused on infrastructure challenges faced by smaller communities throughout Washington. Looking for guidance on how to get started with GIS for asset management? Our GIS Consortium partner FLO Analytics will share how to implement and develop GIS at your organization or get GIS ready to work with asset management systems. FLO also will have a booth at the conference where you can learn more about the benefits of joining the GIS Consortium. More
Salmon Recovery Funding Board considering rule changes
The Salmon Recovery Funding Board is considering changes to rules that implement the Salmon Recovery Act (Chapter 77.85 RCW) that will clarify and standardize the local and regional salmon recovery process.
In 2018, the Washington State Legislature directed the board to conduct a Lean Study to improve the project development and prioritization process used by the Salmon Recovery Funding Board. The recommended Lean Study changes will formalize the foundational work that has been in place since 1998 and provide a framework for the future. For a complete draft of changes, please contact katie.pruit@rco.wa.gov. The board will hold a public hearing December 12-13, 2019.

Tell us: What is your city doing for the 2020 Census?
AWC supports a complete count for the upcoming 2020 Census and we are interested to know how individual cities are supporting the effort. Perhaps you've put a notice in a newsletter, shared something on social media, or are participating in a Complete Count Committee. Whether large or small, we would like to hear about your efforts. Click here to let us know.


Want to see your job posting highlighted here in CityVoice? Boost your job posting's visibility by checking out our add-on options including Premium Featured Listings. AWC's JobNet is the place for cities and towns to recruit new talent. Post your job today on AWC JobNet!
Featured jobs
City of Pasco| Code Enforcement Officer
City of Seattle| Deputy Division Director - Strategy & Administration
AWC| Legislative Policy Analyst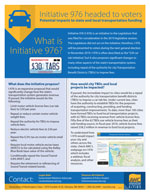 New resources available on I-976, "$30 car tabs" initiative
Looking for information on Initiative 976? We recently updated our resources page to put information and analysis at your fingertips. Check out the webpage that includes a breakdown of what the initiative proposes, how it will impact transportation systems, and projected revenue cuts to local governments. You will also find PDC guidelines, a free webinar, a new two-page fact sheet, and a data tool that shows how your local TBD could be impacted.
Managing conflicts and building cohesive teams


October 30 | Webinar
As an elected official, how can you leverage your position to enhance teamwork and manage the inevitable conflicts? Part 4 of AWC's popular Elected Officials Essentials webinar series, this webinar focuses on tools and tactics for cultivating an environment of civility at city hall. Register now!
Paid Family and Medical Leave – is your organization ready?


November 20 | Webinar
This year, Washington employers began paying premiums for the new paid family and medical leave law. Beginning in 2020, benefits will be available to employees, making Washington the fifth state in the nation to offer paid family and medical leave to workers. With the new law comes new and complex requirements for employers.
This webinar will provide participants the opportunity to explore details of the new law, dive deep into new requirements for employers, and discuss practical considerations and options for modifying existing policies. This webinar is for human resource directors, labor relations, fiscal, and management staff, and registration is limited to individuals that represent the interests of management. Register now!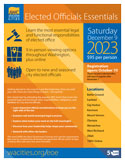 Save the date for Elected Officials Essentials
December 7 | 11 locations
Getting elected as mayor or city council member is just the beginning. Once you start your role, there are many things to learn – and quickly. Get a head start by attending this popular event! Understand your roles and responsibilities, learn important ethical considerations to keep you on the right side of the law, examine real-world municipal scenarios with on-site legal counsel, and network with other city leaders in your region. Registration opens October 9, but those not yet in elected office will need to register after November 5.
Guidance on registration and payment options for incoming elected officials
Cities should confirm with their legal counsel that the city can cover the cost of this training, even before an incoming elected official takes office. Reach out to incoming elected officials in your jurisdiction to explain registration and payment options, including:
The city registers and pays for incoming elected official; or
The incoming elected official registers, and may be allowed to request reimbursement (in accordance with the city's policy).
If you have questions, please confirm with your city's legal counsel.
WAPELRA Fall training
October 24 | Burien
WAPELRA's fall training will focus on recruitment, retention, and succession planning. Attendees are eligible for SHRM continuing education credits. Registration is $75 for WAPELRA or agency members; $90 for non-members.
Improving statewide readiness & response to Washington forest pest risks
October 29 | Webinar
Offered by the Washington Invasive Species Council, this free webinar provides an overview of Washington's new "Urban Forest Pest Readiness Playbook" and uses self-assessments and recommended actions to help communities prepare for potential pest outbreaks. There will be opportunities for Q&A with key supporting organizations. Register today
2019 BARS Manual updates: Register now!
November 20 | Webcast
The Local Government Support Team of the State Auditor's Office is offering the 2019 BARS Manual Updates via webcast for those unable to attend the training in person. The training includes Updates to the BARS Manuals, important accounting and reporting updates, and information on annual report filing changes. Note there are separate sessions for GAAP and Cash and registration is required. Space is limited so don't wait!